Kokako Lodge
ABOUT US
Our Mission
To achieve Excellence in what we do. To be affordable for AIMHI schools. To remove the fear (of the unknown) of the outdoors and show the benefits of active recreation.
Sponsorship opportunities
We are a registered not-for-profit charity. There are exciting and innovative ways to support us, from sponsoring equipment to hands on projects (tax deductible). We can't do it without your help. Please get in touch at office@kokakolodge.org.nz if you'd be interested in sponsoring us.
Our Vision
It is our goal to improve the health and fitness of all of our tamariki and rangatahi. A person with a healthier body and mind, with a love of the outdoors, will go on to lead a fuller life
Safety Management
We are Outdoors Mark Safety audit certified. If it is not safe we do not do it. We have very comprehensive Safety Management Plans in place for every contingency.
Qualified Instructors
All of our instructors are qualified in multiple areas and most also have extensive overseas experience. You can run your own programmes at our place and we are happy to assist you with this.
Our Core Values
Safety. Quality. Sustainability. Progressive. These values are of high importance to us.
Kokako Lodge
HISTORY OF THE AREA
Kokako Lodge is nestled alongside the majestic Hunua Falls on the western side of the Hunua Ranges Regional Park. At around 17,000 hectares, Hunua Ranges Regional Park is the largest piece of indigenous bush in the Auckland Region. The park features magnificent scenery accessible by a network of walking and tramping tracks, including the highest point in mainland Auckland (688m) which provides panoramic views across the Hauraki Gulf and Coromandel Ranges. Over 60% of Auckland's drinking water comes from within the Hunua Ranges.
The Hunua Ranges are home to many special species of indigenous fauna including: North Island kokako, kiwi, kaka, bellbirds, tui, kereru, Hochstetter's frog, lizards, weta and bats. Some of the plant species found in the Hunua Ranges are found nowhere else, and the park is renowned for it's kauri trees. Auckland Council runs volunteer programmes to help protect this taonga through various conservation projects. The park also offers various recreation opportunities such as tramping, camping, mountain biking, horse riding, fishing, hunting, sightseeing and picnicking.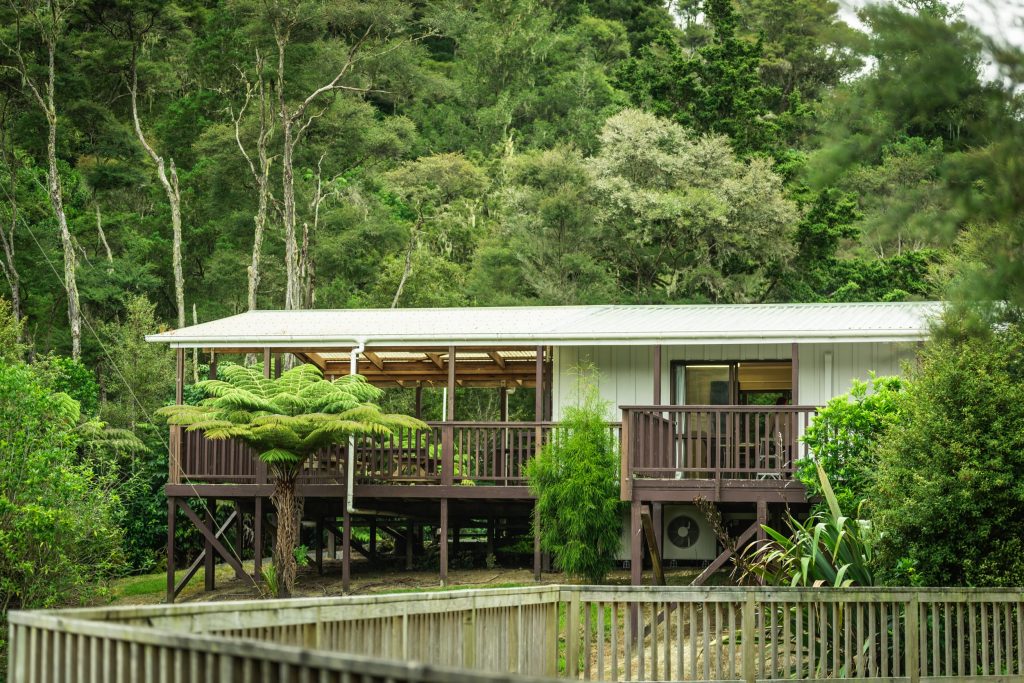 Kokako Lodge
SAFETY SYSTEMS
We are very proud to say we have achieved our Adventure Mark accreditation. Safety is paramount at Kokako Lodge, and it is our promise to make this our continued focus every day of our operations.
If you require any of our Safety Management Systems documentation, please do not hesitate to discuss this with the Office at your earliest convenience.
Kokako Lodge
SAFETY MANAGEMENT PLAN
Safety management is essential. If you are running activities it is important that you do a risk analysis on them. We have an AMP (Activity Management Plan) for all the activities that we run both on and off site. These are available for view on request for the activities that our instructors are running for you.
In line with the current legislation and regulatory requirements as detailed on the WorkSafe website, we are not able to exceed our supervision ratios for the activities that we provide for you. These supervision ratios are in line with industry best practice and are in place for the safety of all concerned. We apologise for any inconvenienced caused by meeting these standards.
If you require any of our Safety Management Systems documentation please do not hesitate to discuss this with the Office at your earliest convenience.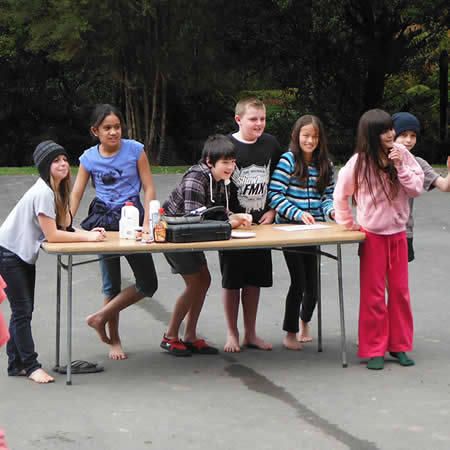 Kokako Lodge
A RURAL CAMPUS
A significant part of what we do is educating young people (primary and intermediate schools) through to young adults (colleges and tertiary) on the benefits of EOTC (Education Outside the Classroom). Even though it is a really 'fun' experience to be here, the focus is more on education – the students are here on their Rural Campus as an extension of their schools.
We really strive for authentic cross-curricular learning opportunities. This means taking what they have learned in the classroom (from maths to science to art) and applying it in a practical way that not only cements that learning but gives greater practical advantage to it.
We have a belief that education alone is insufficient. You also need a healthy body and a healthy mind. Obesity does not have to be chronic before it starts slowing your body down. You do not need to be depressed before your motivation or 'stickability' is affected.
Consistent with our Values we try and encourage healthy eating (diet) and appropriate exercise (a little to begin with and growing). We address motivation by first acknowledging it is a problem in most people's lives then starting first with self-acceptance. I am what I am, and what I am is worthwhile (I am Me – I am Worthwhile).
The end result is better eating and activity habits, an appreciation of how outdoor active recreation can add value to our lives (for work or play) and the ability to bring what was learnt in the classroom out into real life.
Kokako Lodge
CORPORATE & FAMILIES
As soon as you travel from your familiar environment at home or work, and come into our serene and natural environment, even though it only takes 30 minutes to come here, you will step into a whole new world.
You can use your time here at the Lodge for any reason that you want from relaxing/dispute resolution, through to team building/corporate strategy or a challenging or growth session.
We offer our venue on a 'dry-hire' basis (where you have exclusive use of our facilities and arrange what you will do on your own), or with a comprehensive range of activities created for you, or a combination of the both.
Kokako Lodge appreciates the support of the following
SPONSORS