COMMUNITY PACKAGE
$15.00 – $35.00
If you are booking for a family reunion, sports team, church, youth group or a corporate multi-day event, this pricing is for you.
WEDDING PACKAGE
$4,500/WEEKEND
Nestled at the base of the Hunua Ranges, Kokako offers breath-taking views. Our amazing location is perfect for wedding ceremonies.
SCHOOL PACKAGE
$13.50 – $20.00
If you are a Pre-school, Primary, Intermediate, High School/ College, or a Tertiary Education Institute, this pricing is for you.
Add adventure to your programme with
OUR AWESOME ACTIVITIES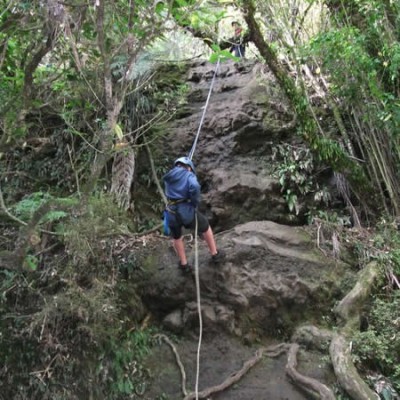 Abseil (9m)
Walk up the path to our 9m natural cliff, take a deep breath in and lower yourself down between the trees.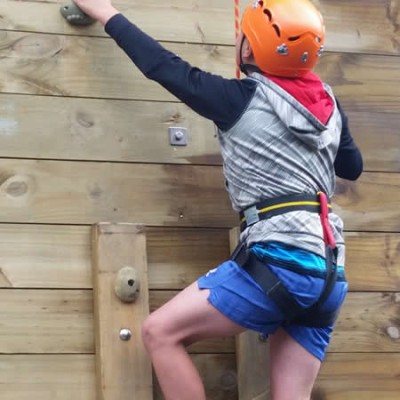 Abseil Tower
Climb up our 10m artifical rock wall, take in the breathtaking views before desceding down one of the two abseil faces.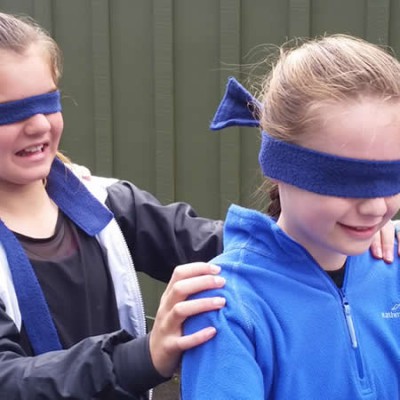 Adventure-Based Learning
Take part in a selection of group-based activities that break 'ice', encourage communication, teamwork and problem-solving skills, and build trust between your group members.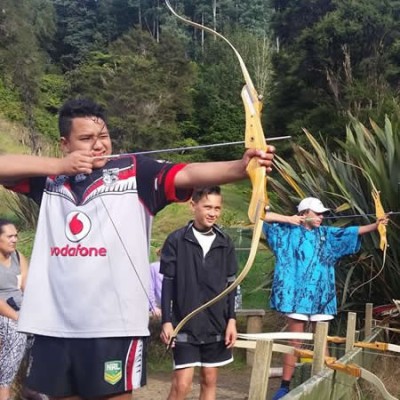 Archery
Learn the necessary skills to improve on your bow and arrow techniques to hit one of four targets a short distance away.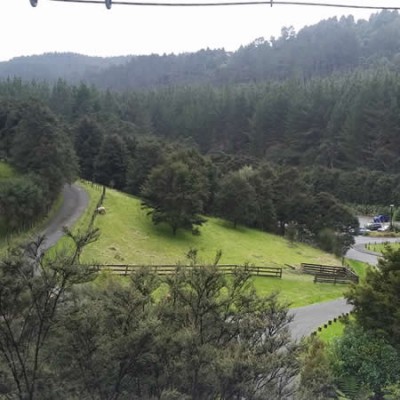 Bushcraft
Immerse yourselves in our neighbouring bush setting, learning about our native plants, bivvy-building, first aid scenariso and some essential survival skills.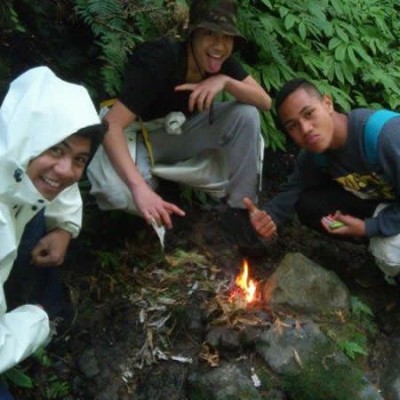 Camp Cooking
Enjoy being educated on different camp cookers, what they offer you and put them to use in a tasty creative way.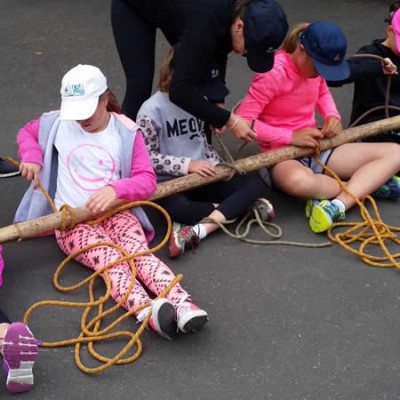 Chariots (Land-Rafts)
Using bamboo and rope, groups compete against each other to build a 'chariot' that is strong enough to carry someone around an obstacle course.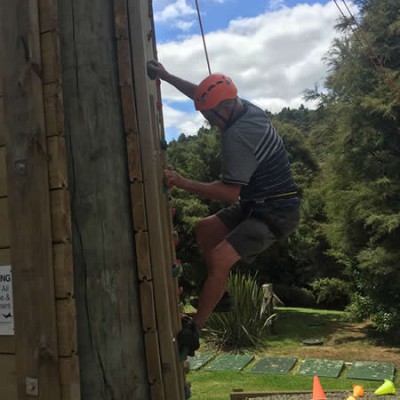 Climbing Wall
Bring out your inner rock-climber as you scale a selection of climbs on our 10m artifical rock wall.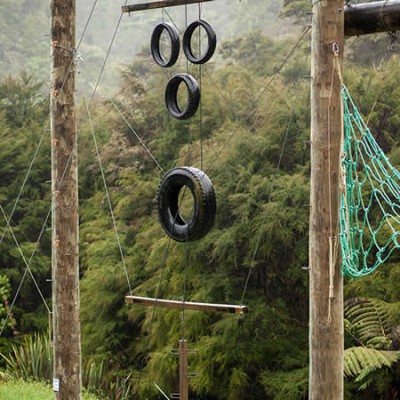 High Ropes
Climb up the Centipede, along the Beam or through some tyres, maybe even jump off a pole or see if Kiwi's can fly! An individual activity or team challenge, you choose.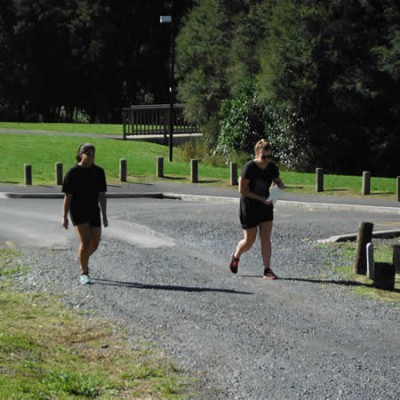 Hunua Hunt
Add an engaging spin to a casual day tramp by finding photo locations using maps and disappearing in the bush for a few hours to gain maximum points for your team.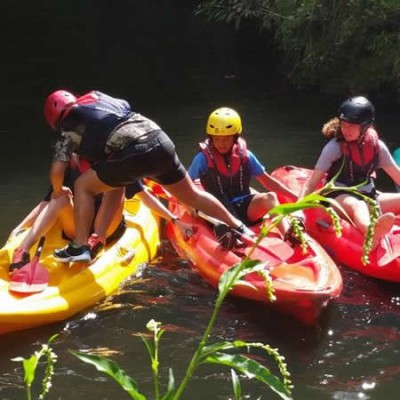 Kayaking
Jump onto a sit-on top kayak after a paddle and safety introduction and take in the sights of the Hunua Falls waterfall and potentially adventure down the river in low flow.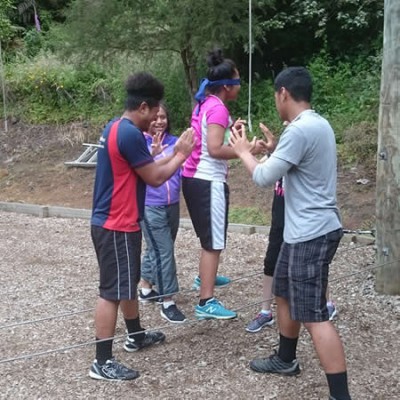 Low Ropes
A series of deceptively challenging activities designed to foster teamwork, communication, trust and the pushing of personal boundaries.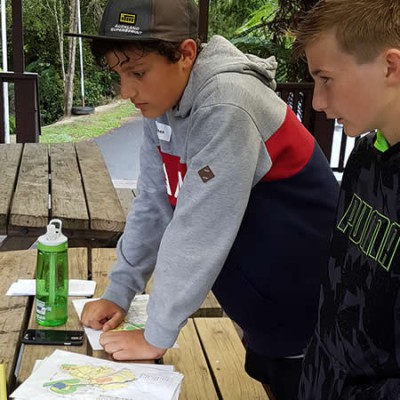 Orienteering
Race in teams to find all the controls on the maps you are given, in the shortest time possible with the option of two available courses.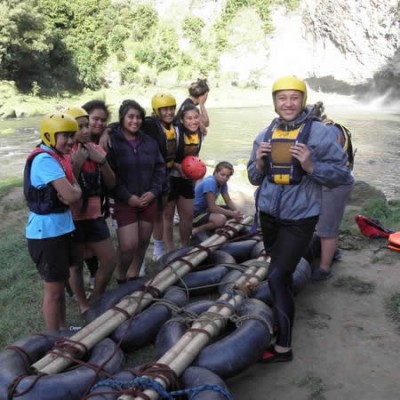 Raft Building
Knots, lashing and raft-building concepts are introduced and practiced as you use the bamboo, ropes and tyres to construct your best raft EVER! Two rafts typically created per group, be prepared to get wet!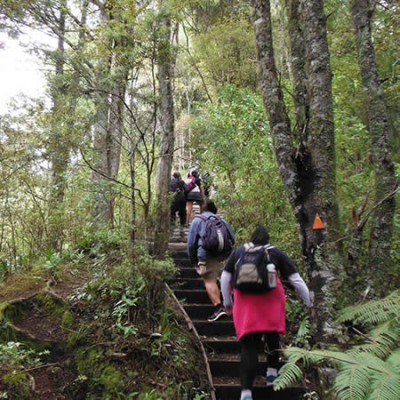 Tramping
Spend an hour or four in the Hunua Ranges exploring the Falls, the Cossey Dam and the magnificent Kauris in all their glory.
Mental, Physical and Social well-being
HAUORA
Hauora is a Māori philosophy of health and well-being unique to New Zealand.
There are four dimensions of Hauora; Taha Tinana (Physical well-being * body health), Taha Hinengaro (Mental and Emotional well-being * self-confidence), Taha Whanau (Social well-being * self-esteem) and Taha Wairua (Spiritual well-being * personal beliefs)
At Kokako Lodge we respect individual personal beliefs and you are free to practise yours while at our place.
We offer express programme integration in these 2 main areas:
Taha Hinengaro
We believe this is the single biggest challenge facing a modern society. The amount of time we all spend on devices and the way the internet influences our perception of everything. This is not even counting the reduction in 'family time' as more and more parents and kids need to work just to survive and how this deprives us of the family support we need.
This might be the cause but we consider a lack of self-confidence exists in even 80% of society, both young and old, and rich or poor.
We start this journey with the kaupapa "I am Me – I am Worthwhile". If you would like to know more, or how this can be integrated into your programme (schools or corporate) please ask one of our Team for more details.
Taha Tinana
We believe that a fit and healthy body will allow you to travel to greater heights in your life. Body health is made up of a combination of diet and exercise. Consistent with our Values of sustainability we are in favour of a sustainable harvesting of crops and food preparation that retains as much of the nutrition as possible. We recognise that most people are 'time poor' these days so we are also in favour of food preparation being done quickly and at low cost.
We offer Nutritionists to come in and speak at your camp. We also offer Chefs to come in and lead groups on how to do it (both preparation and cooking).
The exercise will naturally follow when you explore our fantastic surroundings while at the camp. If you would like to explore these fantastic food options please let one of our Team know.
I am Me – I am Worthwhile involves firstly knowing who you are, then building on that to outwardly speaking that you are worthwhile. It is natural to list our faults but often regarded as anti-social to list our talents. We believe both need listing and being confidently spoken about. Actually, we do not tend to think of things as 'good' or 'bad' but rather we consider things just 'are'. The tall person is handy to reach up high, and the short person is better at getting into tight places. Neither is 'better' than the other, each is just better suited to particular tasks or situations.
The NZ Curriculum includes Key Learning Competencies of thinking; relating to others; language; managing self and participation. In an educational environment I am Me – I am Worthwhile provides a language set to actively discuss what we are experiencing to be able to advance these competencies while also providing genuine cross-curricular opportunities to bring them into our daily lives through greater self-awareness, self-acceptance and self-confidence.
"Spoken Word" is a programme that involves the use of poetry (usually said out loud) as a way of capturing what someone is feeling or experiencing and conveying that to another person.
Some Auckland high schools have taken this programme to the level of being an inter-school competition. We have facilitators that can lead sessions encourage expressing camp and life experiences. If you are interested in this please speak with one of our Team.
Lasting Memories
VIDEO
Have you heard of 'bricks and clicks'? 'Bricks' are regarded as being in the real world and 'clicks' are generally regarded as being on the internet. Imagine if you could experience the camp without having to go there (ie grand parents overseas).
We offer professional video creation of your camp experience for you to share with a password-protected YouTube link. Please speak with one of the Team if you are interested in this.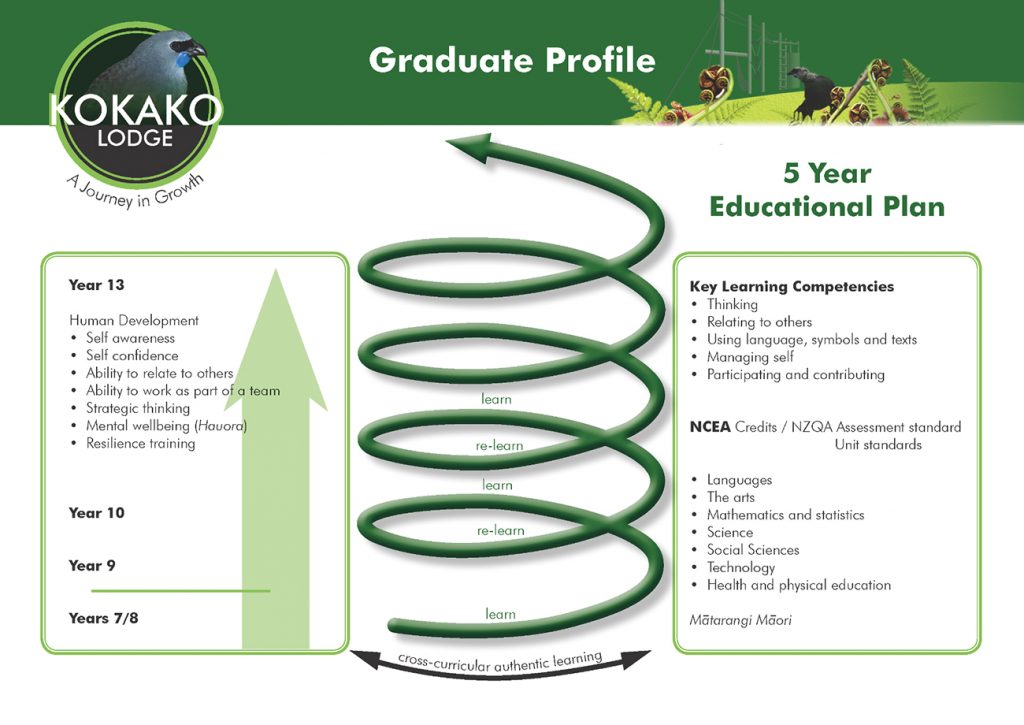 GRADUATE PROFILE
As your child goes through their educational learning schools are aiming to produce the best "Graduate Profile" of student that they can. In doing so they aim to maximise both the Human Development areas (on the left) and the Key Learning Competencies/NZ Curriculum (on the right).
Students are introduced to something, then go over it again to re-learn/re-affirm that concept, before moving on higher and higher up the ladder.
The main area Kokako Lodge fits into is bridging the gap between left and the right where we provide authentic cross-curricular learning opportunities. This is where we take what was is taught in the classroom and bring it outdoors into the 'real world', really cementing those learnings and helping make them available on a daily basis.
All the while your child is progressing through the layers and learnings to come out to be the very best graduate profile that they can be.
REACHING NEW HEIGHTS
This package is for the ultimate adventure seeker. The only time you'll spend indoors is when you stop for lunch. Put your confidence to the test on the ropes courses, abseil and try your hand at archery – this package is ideal for those who spend all their day indoors.
THE CALL OF THE WILD
Reconnect with nature and explore the natural environment surrounding Kokako Lodge. This package comprises a 3-hour tramp experience within the Hunua Ranges native forest. You will find bush clad ranges with streams, waterfalls and magnificent vistas.
WILD KOKAKO CHASE
Put teamwork to the test and let your competitive nature shine. This package requires you to work together to reach the finish line, discovering clues and completing challenges along the way. Improving communication, morale and productivity in the workplace.